Posted on Friday 25 September 2020
You may not be aware but there is a proposal to redevelop the site of the sewage works near Cowley Road and the new Cambridge North Station. In outline, once the sewage farm has been moved to another as-yet-undecided location, they are proposing to build 8,000 new dwellings housing 18,000 people (that's about the same population as Ely) largely in blocks of flats up to 13 storeys high, and they anticipate 20,000 new jobs being created, many on the Science Park. This will have a major impact on the appearance of the area and the traffic flow on Milton Road, as well as increasing the load on local facilities; for instance, there is no suggestion of a new secondary school, health centre or swimming pool.
You should have received a leaflet through your letter box giving a rosy view of what it might all look like and asking for comments by 5th October. You can also see the same information online at https://www.greatercambridgeplanning.org/nec.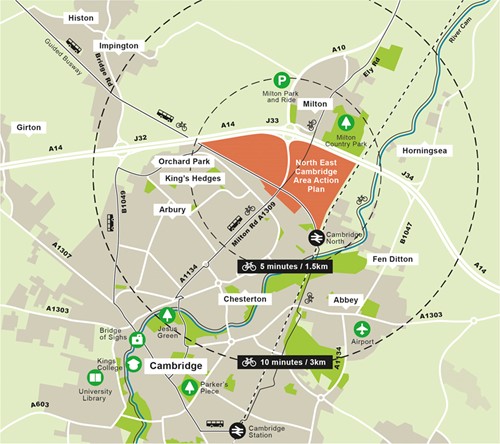 Our colleagues at Hurst Park Estate Residents' Association have been closely following the initial stages of this scheme and recently held an excellent on line meeting where they explained the proposal and revealed its hidden implications. It is well worth looking at the slides from this presentation at https://hpera.co.uk/documents/necaap-presentation-to-hpera-sept-2020.pdf or even watching the video of the meeting at https://www.youtube.com/channel/UCpaAVaYUe9rAWIlKSgipXWg/playlists?view_as=subscriber. Their slides 12A and 12B give suggestions for answers to the 'big ten questions' we are being asked to consider; their opinions are well informed and in general not in favour of the proposal.
Please do submit your comments either on paper or on line before the closing date. It is most important that the views of us, the local residents, are known, otherwise this dreadful scheme will just go ahead unchallenged.