About
We believe that the current City Deal proposed changes to Milton Road are not in the interest of residents of Cambridge and that a better solution can be found that is good for everyone.
You can find the Milton Road Residents Association's official response to the City Deal in the Our Response section of the website, and also information on the City Deal's original Proposal can be found at City Deal - Milton Road Proposal.
The Milton Road Residents Association posts are:
Chairman: Charles Nisbet
Secretary: Barbara Taylor
Treasurer: Andrea Elliott-Smith
You can contact us using the Contact Form on this website, or by emailing us on contact@miltonroadra.org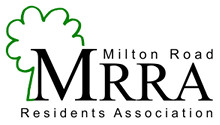 Who are the Milton Road Residents Association members?
After reading about the City Deal and the upcoming meeting about Milton Road in the local news, two residents got together and leafleted the entire street the night before, alerting other residents to the meeting. Lots of people turned up to hear about the plans, and some residents were able to get together, with the help of FeCRA to begin forming the MRRA.
This newly formed group of residents, then held a meeting at Chesterton Community College on December 17th 2015, to which hundreds turned up. They asked for volunteers to help with the task of asking for a better deal from the City Deal for Milton Road. The MRRA is made up of these volunteers and the orginial pioneers of the group.
Become a Member
Membership is free and is open to all residents of Milton Road aged 18 and over. All Milton Road Residents Association members will be invited to our upcoming annual general meeting and will be entitled to vote on Milton Road Residents Association matters.