The Greater Cambridge City Deal
Cambridge City Deal Proposal for Milton Road
Stage 2 - Proposals after Public Consultation
The City Deal have decided to recommend a modified version of the 'Do Something' proposal for Milton Road. The City Deal Officers have stated that their recommendation at this stage is for the road layout described below, and for any further details to be assessed at the next consultation stage. Find the full report here
Generally three lanes of traffic
Four lanes of traffic where there will be in-bound and out-bound bus lanes on major junction approaches
Intelligent traffic signals
Segregated cycleways on both sides of road
Floating bus stops considered
Removal of Elizabeth Way/Highworth Ave roundabout and replaced with traffic signals
No banned turns at Gilbert Road, Arbury Road and King's Hedges
Closure of Union Lane with Milton Road
New Proposal For Consideration: Banning right turn into Elizabeth Way
Removal of over 100 trees
"Three Traffic Lanes"
Although the 'Do Maximum' 4 lanes have been rejected, the "3 lane" proposals that have been put forward still have 4 lanes for at least part of the road along several sections of Milton Road. In addition to this, City Deal Officers are suggesting introducing bus lanes along sections of Milton Road which currently have only 2 traffic lanes, turning them into 3 lanes.
Dedicating this much of Milton Road's width to traffic lanes will severely limit the amount for space left over for cyclists, walkers, trees or verges. By committing to this layout, before a full and detailed plan of how all of the other details are going to fit together, the City Deal proposals are limiting the available options for all other interest groups.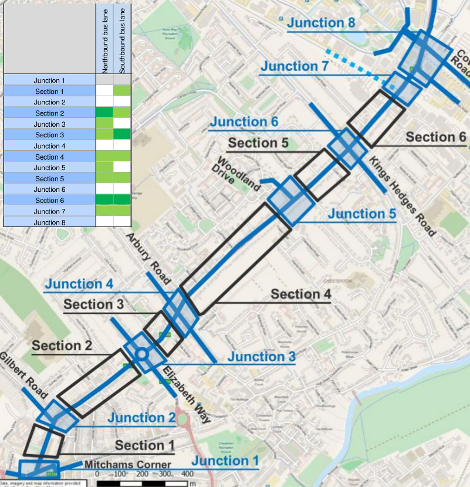 Elizabeth Way Roundabout
It is proposed that the planted roundabout will be removed and converted into a traffic light controlled junction. Milton Road will then be widened on either side into a four lane carriageway. This will eliminate street parking for those who wish to use the local shops, which is not good for either the local community, or the the local businesses situated there.

To view the full set of technical drawings for the Milton Road Proposals from the Interim Report, Download PDF

Impact on Streetscape
The City Deal have acknowledged that the streetscape is of utmost importance to many of the residents of Cambridge, and also of those further afield. The City Deal consultation questionnaire results showed that 79% of residents and commuters who answered the survery said that enhancing the street scene was important, quite important, or very important.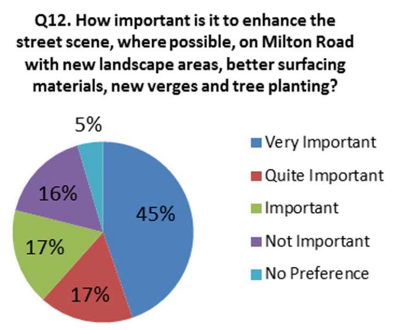 What does £23 Million of public money provide for users of Milton Road
The City Deal predict a 99 second (1 minute 39 seconds) decrease in journey time for inbound bus users in the morning rush hour, albeit a much larger time saving for the afternoon rush hour using the 'Do Something' scheme.
The City Deal published these figures in their 'Interim Options Report' which can be found in section 5.3.2 here: Interim Options Report or download the pdf here Download PDF

The City Deal's first draft report calculating the average time for buses at peak hours on weekdays. The times they show here are vastly different to the 'Do Nothing' shown in the new report. The full original report can be downloaded here Download PDF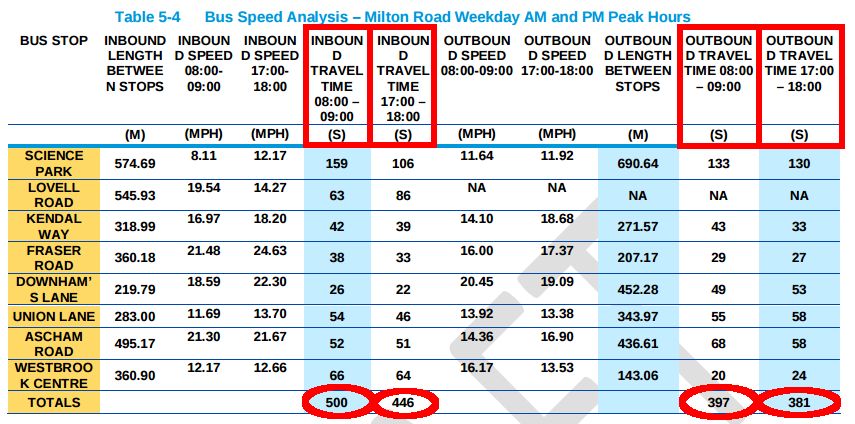 ---
Stage 1 - Initial Proposals
The original proposal can be found here, but this is a brief summary:
Extended and additional bus lanes
Raised segregated cycleways
Replacing the Elizabeth Way roundabout with traffic lights
Closing Highworth Avenue to motor vehicles via Milton Road
Closing Union Lane to motor vehicles via Milton Road
No right turn into Arbury Road via Milton Road
No right turn into Gilbert Road via Milton Road
No left turn into Kings Hedges Road via Milton Road
Removal of up to 83% of the trees
Removal of grass verges
Possibility of compulsory purchase orders of front gardens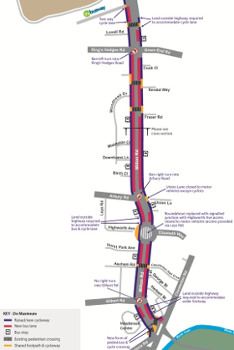 The Traffic Problem
The Greater Cambridge City Deal Draft Options Report doesn't convince us that an additional bus lane will solve any problems. We would like to highlight some of the findings from this document.
Observed Traffic Volume on
A1309 (North of Elizabeth Way)

&

A1134 (South of Elizabeth Way)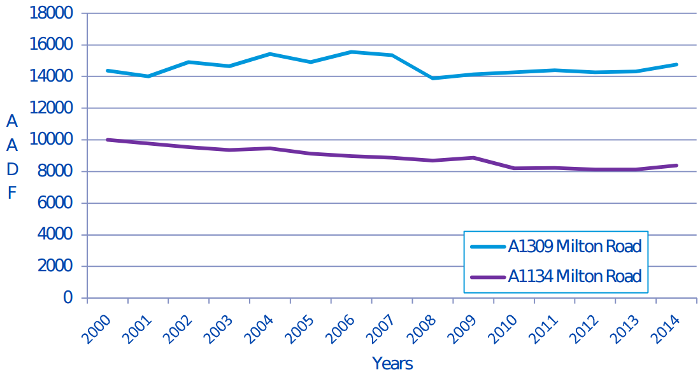 Traffic levels have been stable or decreasing over the last 15 years. With the new train station being built in North Cambridge, this may decrease even further as commuters leave their cars behind and use the train in its place. Adding another bus lane is not the solution.
Milton Road Buses
Residents benefit very little from improved bus routing down Milton Road, as most buses do not stop on the road. The Buses for the Milton Park and Ride, and Busway do not stop. The Citi 1 and Citi 2 only stop at the ends of Milton Road before winding through side roads. Only the 9 is available to residents and travels down Milton Road. However, with only 2 buses per hour on weekdays and no service during the evenings or Sundays, it is not a service that can be readily utilised. There are no plans to improve bus services for residents according to Stagecoach.