Posted on Tuesday 16 October 2018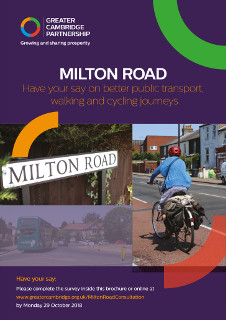 The process for re-modelling Milton Road has now reached the point where plans have been sent out for public consultation. If you live on or near Milton Road you should have received a leaflet and questionnaire, but you may not have one because the distribution was patchy. However, you can also complete the questionnaire online at https://consultcambs.uk.engagementhq.com/milton-road/survey_tools/MiltonRoadSurvey2018.
Please do look at the plans and complete the questionnaire to make your views known.
MRRA Committee has examined the plans and questionnaire in detail and their opinion is that the plans are a great improvement on those originally proposed over two years ago, but that there are still some areas which could be improved. The following is the Milton Road Residents Association response to the questionnaire:
Question 1: Individual Elements
We support or strongly support all elements of Question 1 except:
11. New outbound bus lane approaching Elizabeth Way roundabout: strongly oppose
12. Elizabeth Way roundabout redesign: oppose
18. Retain inbound bus lane approaching Arbury Road junction: strongly oppose
Our reasons are given in Question 2.
Question 2: Further Comments on Individual Elements
11. We strongly oppose the new outbound bus lane because it takes away space that can be used for safe, protected inbound and outbound cycleways and better verges which will allow school traffic in the morning to cycle legally between Highworth Ave and Ascham Road, the most intensely used part of the school route.
12. We feel obliged to oppose the Elizabeth Way roundabout redesign because of the very narrow and unsafe shared-use pinch-points for people walking and cycling. These problems could be fixed by retaining the present single traffic lane on Milton Road outbound at the approach to the roundabout and segregating the cycleway from the footway.
18. We believe that the inbound bus lane approaching Arbury Road junction is too long and that space would be better used for improved verges and footways.
There should be no illuminated advertisements on floating bus stops and the panel on the approach side should be kept clear so that bus drivers can see if anyone is waiting.
Question 3: Segregated Cycleways and Copenhagen Crossings
We strongly support the design of the new segregated cycleways and Copenhagen-style priority crossings.
Question 4: Tree Planting Scheme
We strongly support the proposed concept for tree planting along Milton Road.
Question 5: Shared-use Pavement or Pedestrian Only
We believe that the pavements should be pedestrian only and that cycleways should always be segregated from footways. Not only would a shared-use pavement be unsafe and intimidating for vulnerable pedestrians, it would also encourage people to cycle in close proximity with the many driveways on the north-west side of Milton Road leading to an increased risk of collision with vehicles exiting from driveways. Frequent crossing points over Milton Road are therefore needed.
Question 6: Parking on Grass Verges
We strongly support the implementation of a Traffic Regulation Order to prevent parking on grass verges. Some form of physical barrier is needed to protect these verges.
Short term parking for carers, delivery vehicles, etc, can be provided by:
a. Using driveways; or where none is available
b. Accepting that they will use the existing exemption which allows deliverers to park on double yellow lines for up to 10 minutes; a special rule analogous to the disabled parking system might have to be created for carers and doctors; or
c. Enforcing the rule that requires those needing longer periods of parking to apply for prior authorisation.
Question 8: Crossing Near Westbrook Drive
We believe there should be a crossing near Westbrook Drive (Option 4A).
Question 9: Crossings at Downham's Lane and Fraser Road
We believe there should be crossings at both Downham's Lane (Option 19A) and Fraser Road (Option 19B). This is to help people from the large estates on either side of Milton Road to cross the road and access bus stops and the unidirectional cycleway on the other side of the road.
Question 10: Duties Under the Equality Act
The proposed shared-use pavements are dangerous and intimidating for people with disabilities who are walking or using a mobility device. We oppose shared-use pavements. Instead, cycleways should always be separate from footways.

Segregated footways and cycleways are much safer, easier to navigate and comfortable for all users. Where a footway has to cross a cycleway, such as at a bus stop, Zebra markings on a raised platform should be used, preceded by rumble strips on the cycleway and tactile paving on the pedestrian approaches.

Additional controlled crossings of Milton Road will help all people to be able to cross the road safely, regardless of ability.