Posted on Friday 26 January 2018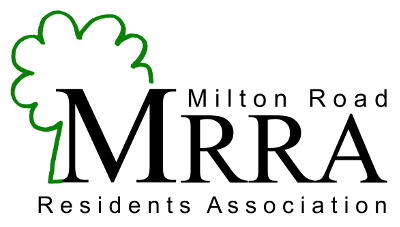 The meeting minutes for this year's AGM are available from the meeting minutes page.
The following information was on the hand out in this year's AGM.
Milton Road Update – AGM
5 th December 2017
The Greater Cambridge Partnership (GCP) website:
https://www.greatercambridge.org.uk/transport/transport-projects/milton-road/
Milton Road Residents' Association website:
Link to last news update mailing, October 2017, which also contains video links
http://www.miltonroadra.org/news/posts/milton-road-update-october-2017
Since the workshops in September (Bus Stops and Crossings) and October on Trees, there have been four Design Group Meetings where MRRA representatives have met with the Milton Road Project Manager, Paul van de Bulk and Traffic Engineers to discuss:
Elizabeth Way Roundabout
Cycle Lane between Mitcham's Corner and Elizabeth Way Roundabout
Mitcham's Corner interaction with the Milton Road scheme
Bus Lane lengths
See GCP web link above for details of these Design Group meetings.
What Happens Next
The County Officers and WSP Consultants will now work up detailed plans, taking into account the Workshop and Design Group feedback. These plans will then be presented to the Milton Road Local Liaison Forum (MR LLF) at a public meeting in January 2018 for residents and stakeholder comments.
The Officers aim is then to take the Preferred Option design and outline business case to the Assembly and Executive Board in the March meeting. That will mean they need to get all the work done by the first week of February 2018 so the reports can be approved, edited and published in advance. They will be asking for approval from the Board to take this Preferred Option design out to public consultation, probably in May 2018.
Following analysis of feedback from the consultation and any changes that may instigate, they will then need to go back to the Board in the Autumn of 2018 to present the outcomes and ask for approval to go ahead with the Detailed Engineering Design.
GCP Assembly and Executive Board Meetings – Important Dates for Milton Road
The Assembly and Board meetings are open to the public who can ask a question if submitted three working days beforehand. Documents for these meetings are posted on the South Cambs website at least a week in advance, along with protocol for asking questions. See link via the GCP website on the Events Page for all meetings.
GCP Assembly, Wednesday 28 th February, 2-5pm, S/Cambs offices, Cambourne
GCP Executive Board, Wednesday 21 st March, 4-7pm, Shire Hall
What Can You Do?
Keep up to date on developments by following MRRA on Twitter and Facebook, by checking the GCP website https://www.greatercambridge.org.uk/events/ and the Milton Road project updates https://www.greatercambridge.org.uk/transport/transport-projects/milton-road/ and come to the GCP Assembly and Executive Board Meetings.
But most important is to lobby the decision makers for the best possible design for Milton Road for future generations.
The 'Final Concept' plans, approved by the GCP in July 2017, include a full length bus lane, albeit alternating between the north and south side. We believe a bus lane will not bring the desired modal change and at most only save a couple of minutes on the rare occasions when the traffic is queuing, before reaching
Mitcham's Corner. We are therefore hopeful that we can get these bus lane lengths reduced since we believe that this is valuable space that could be used for safer walking and cycling, segregated by a tree-lined avenue of trees and verges the whole length of Milton Road; a safer and more environmentally worthy landscape for one of the main gateways into our beautiful city.
Just three councillors will decide the fate of Milton Road. Please continue to let them know what you want for Milton Road:
The GCP Executive Board (the ultimate decision-making body)
Non-voting members:
The GCP Assembly (make recommendations to the Exec Board)
You can also contact the Milton Road Project Engineer, Paul van der Bulk, and GCP generally at: contactus@greatercambridge.org.uk
Or write to them at GCP, Room SH1311, Shire Hall, Cambridge CB3 0AJ