Milton Road Residents Association
Welcome to the Milton Road Residents Association of Cambridge UK. Formed in December 2015, we aim to help local residents in North Cambridge to maintain and improve the area that we live in.
We believe that the current City Deal proposed changes to Milton Road are not in the interest of residents of Cambridge and that a better solution can be found that is good for everyone.
MRRA Meeting and AGM
Campaign to save Milton Road - review and new ideas
6.30pm, 29th November 2016, St Laurence's Church Hall, CB4 1XB
Join us for an evening's review of the progress we've made in our campaign to keep the green, residential nature of the road we all live on – and see some resident-generated ideas.
Share your thoughts with fellow residents
Starting with an informal get-together, this is an opportunity to meet up with your near and not-so-near neighbours and share your views of City Deal's plans, and talk about your ideas to improve our road.
What's been happening – plus some new ideas
At 7pm, MRRA Chairman, Charles Nisbet, will lead a presentation and review of this past year's campaign, including outlines of new ideas of strong, feasible alternatives to City Deal's proposed design. Following this, there will be time for questions and answers, and for general discussion.
MRRA's Initial AGM
After the presentation, we will hold the first annual general meeting of Milton Road Residents' Association, where all attending members can vote on any motions raised. Residents will be able to sign up as members on the day if they wish.
Become a Member
Membership is free and is open to all residents of Milton Road aged 18 and over. All Milton Road Residents Association members will be invited to our upcoming annual general meeting and will be entitled to vote on Milton Road Residents Association matters.
Petition Presented To Cambridge County Council
Cambridgeshire County Council required at least 3000 Cambridgeshire residents' signatures to debate the petition as part of a full council meeting. The online petition, along with our paper petition, has surpassed this goal. On 19th July 2016, the Milton Road Residents' Association Chairman presented the petition for discussion to the County Council.
A video of the meeting can be found here
Cambridge 105 Radio podcast interview with Milton Road Residents' Association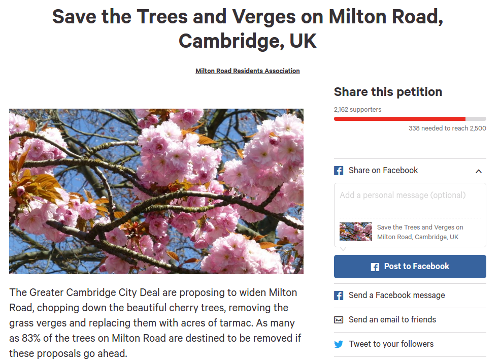 By the end of the meeting the councillors voted in favour of a motion from Councillor Jocelynne Scutt for the following recommendation:
'We want a commitment from the City Deal Assembly and the City Deal Board that if, in the end, construction requires removal of any single one of the trees in Milton Road, then the City Deal monies return to Milton Road mature trees lining Milton Road's verges making Milton Road the impressive vista it should be, a lead-in to Cambridge of which we – all of us – whether Cambridge City or from the County as a whole can be proud.'
A further motion by Councillor Ian Manning recommending the City Deal to consider other options for Milton Road was rejected by the councillors:
'This council wishes to express its opposition to any plan that will result in the removal of the majority of trees on Milton Road. Further the council believes that measures contained in the City Deal do not represent an efficient or desirable way to tackle congestion and ask that more options be considered in the public consultation.'
Current City Deal Proposals
The executive Board has approved the road layout recommended by the City Deal. Watch the full video of the meeting here where the proposals were unanimously approved.

The City Deal has proposed 3 lanes and in some places 4 lanes of traffic along Milton Road. They are also proposing to close Union Lane at the junction with Milton Road, banning right turns into Elizabeth way and also remove the Elizabeth way roundabout. More details of their recommendations can be found at the City Deal -> Milton Road Proposals section of this site.
Petition: Save the Trees and Verges on Milton Road, Cambridge, UK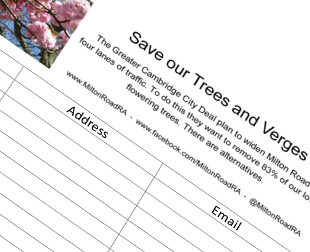 If you haven't signed one of our paper petitions yet, you can sign our online petition instead! We have created an online petition on change.org which can be quickly and easily signed online.
Please send http://www.miltonroadra.org/mrra-petition to anyone you know who would like to sign this.